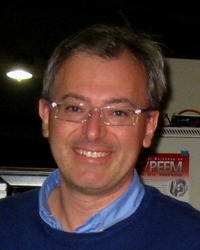 Andrea Locatelli
coordinator of the SPEctroscopy, PhotoEmission and Dynamics (SPEED) beamline group at Elettra.

coordinator of the Nanospectroscopy beamline at Elettra.

more than 200 co-authored publications in international refereed journals.

Scopus Author ID: 55612897600
ORCID ID: 0000-0002-8072-7343
more than 60 presentations at international workshops and conferences, 2 as keynote speaker, 26 as invited speaker.
Scientific interests
Surface catalytic reactions, dynamical processes at surfaces, mass transport by chemical reactions, spatio-temporal pattern formation during oscillatory surface catalytic reactions.
Epitaxial growth processes in ultra-thin films on metal and oxide supports.
Graphene growth and electronic structure.
Surface and thin film magnetism.
Stress induced self-organization processes in ultra-thin films.
Characterization of the structural and electronic properties of ultra thin films, interfaces and nano-structured by means of XPS, UPS (x-ray and ultra-violet photoemission spectroscopy) ad well as x-ray photoelectron diffraction (XPD).
Chemical and magnetic imaging of nano-structured materials and thin films by means of electron and photoemission electron spectromicroscopy, and in particular X-ray photoemission electron microscopy (XPEEM, XMCD- e XMLD-PEEM).
Dynamic phenomena at surfaces studied by Low energy electron microscopy (LEEM); structural characterization by means of microprobe low energy electron diffraction (mu-LEED).
Development of instrumentation and software for LEEM and XPEEM spectroscopic imaging.