Lisa Vaccari
Group Coordinator of IDEAS beamlines and Laboratories Senior Scientist - Coordinator of the Chemical and Life Sciences branch of SISSI beamline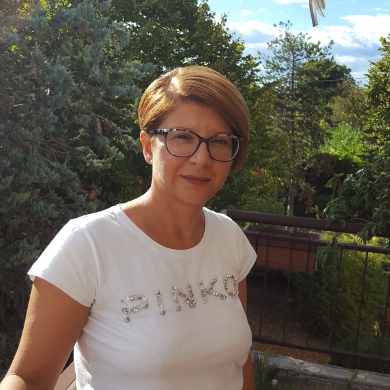 Personal data
name and surname: Lisa Vaccari
place and date of birth: San Vito al Tagliamento, 27/06/1974
nationality: Italian
marital status: single, cohabiting, 1 daughter
e-mail: lisa.vaccari@elettra.eu
telephone: +39 335 1236228
Education
2005: Ph.D. in Pharmaceutical Science, University of Trieste, Italy.

Thesis title: "Strategies for the targeted delivery of doxorubicin in the chemotherapy of colon adenocarcinoma: from micro to nanotechnology";
Supervisor: Prof. Maurizio Prato.
Research activity: Development of miniaturized medical device for in-situ delivery of anticancer drug doxorubicin for the intraperitoneal chemotherapy of colon adenocarcinoma. Synthesis, functionalization and test of drug delivery capabilities of nanostructured materials: porous silicon and functionalized CNTs (Carbon Nanotubes). Fabrication and test of a silicon-based miniaturized multi-reservoir system for time-controlled delivery of drugs was fabricated and tested.
1999: MsC in Chemistry, University of Trieste, Italy. Mark: 110/110 cum laude.

Thesis title: "Characterization of cytochrome c2 from Rhodopseudomonas palustris";
Advisor: Prof. M. Calligaris.
Research activity: Bio-crystallography: crystal growth, Synchrotron Radiation diffraction pattern acquisition, data analysis and crystallographic structure refinement.
Employment
Since 2019 Group Coordinator of IDEAS (Imaging, Diffraction, Emission, Absorption and Scattering) Beamlines and Labs
November 2011 - today: Coordinator of the Chemical and Life Sciences branch of the infrared beamline at Elettra – Sincrotrone Trieste, SISSI;
September 2006 – October 2011: Researcher (Beamline scientist) at the infrared beamline at Elettra - Sincrotrone Trieste, SISSI;
2005 – 2006: Researcher at CBM (Consortium for the Center of Molecular Biomedicine), Trieste;
1999 – 2002: Research Fellow at National Institute for Matter Physics, LILIT (Laboratory for Interdisciplinary LIThography), Trieste.
Academic Teaching
Master degree course, University of Trieste. Subject: Characterization techniques with synchrotron Radiation - since 2014.
Post-doctoral course in Nanotechnology, University of Trieste – since 2014.
Co-advisor of PhD students, Master students and Bachelor students.
Other Teaching activities
ICTP School on Synchrotron Radiation and Applications. ICTP, Trieste, Italy, May 2016.
XLVIII Zakopane School of Physics - Breaking frontiers: submicron structures in physics and biology. Zakopane, Poland, 20- 25th May, 2013.
Advanced School on Synchrotron Techniques in Environmental Scientific Projects. ICTP, Trieste, Italy, 15-26 April, 2013.
School on Synchrotron and FEL Based Methods and their Multi-Disciplinary applications. ICTP, Trieste, Italy, 19-30 March, 2012
SynCro'07, 1st Croatian Synchrotron Radiation Summer School. Rijeka, Croatia, 3th – 7th September 2007.
Research activities and experience
FTIR microspectroscopy of biological systems under physiological conditions.
Lisa Vaccari is expert in bio-spectroscopy and pioneered the exploitation of microfabrication capabilities for the design and fabrication of IR-suitable microfluidic devices for performing in vitro bio-experiments under physiological conditions in real-time.
FTIR microscopy and spectroscopy of cellular DNA/RNA: from reductionist to holistic approach in the interpretation of cellular FTIR spectra.
Ultrasensitive FTIR microscopy of diluted biomolecules assisted by plasmonic devices.
Complementation of FTIR microspectroscopy with diverse analytical techniques (AFM, micro-XRF and X-ray Imaging, flow-cyrometry, …) for biological system characterization and analysis.
Experience in micro- and nano-fabrication technologies and their interfacing with biological systems.
Publications and invited talks
Over 140 articles in peer-reviewed journals, over 30 invited talks and lectures at International Congresses, Conferences, Symposiums, Workshops, Universities and Research Centers. H-index - 31. The most recent publications appear at
http://www.elettra.eu/lightsources/elettra/elettra-beamlines/sissi/publications.html
Other Activities
Member of Proposal Review Panels at SOLEIL (France), ALS (USA), CLS (Canada).
Chair of the Life Sciences Proposal Review Panels at SESAME (Jordan).
Chair of the international workshop "SAFE: Smaller and Faster: Infrared and Terahertz Spectral-Imaging at the Nanoscale with Synchrotron Radiation and Free Electron Laser Sources" (1-2 December 2016, Adriatico Guesthouse of the International Centre for Theoretical Physics (ICTP), Trieste
http://www.elettra.eu/Conferences/2016/SAFE/
Chair of the international workshop "NIMBS: New synchrotron radiation and optical techniques for nanoscale microscopy of biological systems: from single molecules to cells" (9-10 December 2015, Adriatico Guesthouse of the International Centre for Theoretical Physics (ICTP), Trieste
http://www.elettra.eu/Conferences/2015/NMBS/
Member of the advisory board of the International Workshop on Infrared Spectroscopy and Microscopy with Accelerator-Based Sources, WIRMS 2011 (4-8 September 2011, Savoia Excelsior Palace, Trieste
http://www.elettra.eu/events/2011/WIRMS/