VUV-XIII
July 23-27, 2001
Stazione Marittima, Trieste, Italy
Program
Following the example of the VUV XII conference, this year's program includes invited plenary and parallel oral sessions as well as contributed poster sessions.
The length of the talks will be 45' in the plenary sessions and 30' in the parallel sessions.
The space allotted for displaying a poster is 0.9 m high x 1.17 m wide.
PLEASE DOWNLOAD (IN PDF FORMAT)
THE DETAILED PROGRAM OF THE CONFERENCE
A summary schedule appears below.
BY CLICKING ON THE POSTER SESSIONS CELLS YOU CAN DOWNLOAD THE LIST OF THE POSTERS OF THE SESSION
ll conference activities except the banquet will take place at the Stazione Marittima in Trieste. You must be a registered participant to attend the sessions and events. Registration badges are required.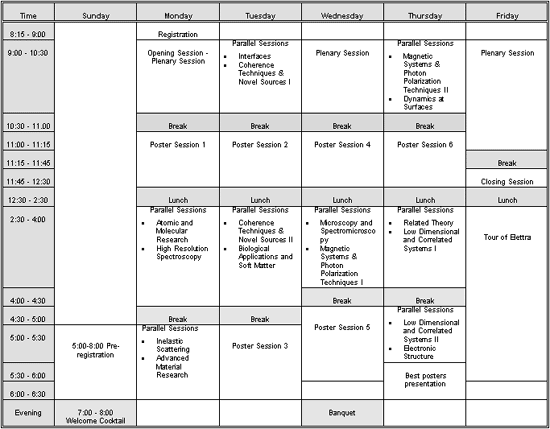 Invited speakers of plenary sessions
E. Bauer (USA)
O. Björneholm (Sweden)
C.A. Larabell (USA)
T. Takahashi (Japan)
M.A. Van Hove (USA)
R.Wiesendanger (Germany)
Invited speakers of parallel sessions
P. Aebi (Switzerland)
J.N. Andersen (Sweden)
M.C. Asensio (Spain, France)
L. Avaldi (Italy)
S.Baroni (Italy)
S.P. Cramer (USA)
A. Damascelli (USA)
E. Di Fabrizio (Italy)
H. Ebert (Germany)
C.S. Fadley (USA)
J.Feldhaus (Germany)
P. Feulner (Germany)

M.V. Ganduglia- Pirovano
(Germany)
J. García Ruiz (Spain)
E.Gluskin (USA)
T. Greber (Switzerland)
S. Günther (Germany)
U. Hergenhahn (Germany)
U. Hillebrecht (Germany)
A.P. Hitchcock (Canada)
K. Horn (Germany)
D.J. Huang (Taiwan)
R. Imbihl (Germany)
C. Jacobsen (USA)

P.D. Johnson (USA)
R. Klauser (Taiwan)
M. Krisch (France)
G.N. Kulipanov (Russia)
G. Le Lay (France)
B.R. Lewis (Australia)
I. Lindau (Sweden)
M. Marsi (Italy)
M. Murnane (USA)
F.P. Netzer (Austria)
F. Nolting (Switzerland)
G. Paolucci (Italy)
P. Perfetti (Italy)
Z.Q. Qiu (USA)

J.E. Rubensson (Sweden)
M. Sacchi (France)
T.Schmidt (Germany)
G.Schneider (Germany)
G. Schütz (Germany)
S. Suga (Japan)
J. Susini (France)
L.J. Terminello (USA)
K. Ueda (Japan)
X.J. Zhou (USA)