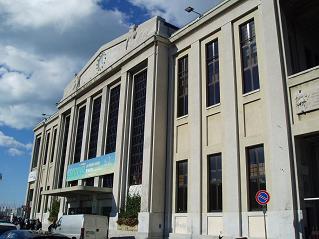 LEEMPEEM6 will be held at the Stazione Marittima Congress Centre. Amongst the surface science community, the centre is known for hosting VUV XIII in 2001.
Overlooking the sea and located in the cultural heart of the city, the Stazione Marittima Congress Centre is one of the main historic buildings of the city. Inaugurated on October 28th 1930, the building is one of the major works by the architects Umberto Nordio and Giacomo Zammattio. The conversion of the old harbour station into a modern congress centre was carried out in steps starting in 1984. Thanks to the last renovation works of the ground floor premises, carried out in 2002, the Congress Centre is now able to house several exhibitions simultaneously.
The stateliness of the building is reflected in the vast rooms and exhibition areas. A double grey marble staircase leads from the entrance to the first floor foyer, which is brightly lit by the enormous glass walls overlooking the charming Gulf of Trieste. Equipped with a reception desk and with all facilities (wirelss LAN, phone, etc), the foyer can also be reached by lift and freight lifts.
The LEEMPEEM6 workshop will be hosted in the Oceania hall, which is shown in the images below.